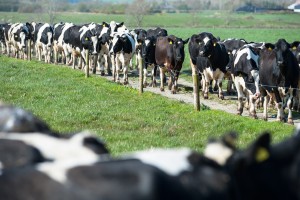 We have received a lot of positive feedback about our recently launched Hi Fertility Breeder Supreme Dairy Nut. Users are reporting improved submission and conception rates as well as greater milk solids . Cow body condition is also a noted improvement on many farms.
At Southern Milling we constantly monitor customer needs and tailor our feeds around the requirements of the dairy farmer throughout the lactation year.  In April we launched our new feed, Hi Fertility Breeder Supreme Dairy Nut onto the market . This is a complementary feed best suited to the grazing high yielding dairy cow. Fresh grass, such as aftergrass or second rotation grass has a very high protein content (<25%). This when fed to cows will cause looseness, and low butterfats, and unfinished cuds being regurgitatd.  To combat this, a high fibre and energy content feed is needed to balance the rumen.
This feed has a high Maize content and additional Megalac for protected energy, to slow down the digestibility and stabilise the rumen micro flora to influence the butterfat content in the milk.  Hi Fertility Breeder Supreme Dairy is a 14% nut.
Yeast is also a very effective when controlling rumen activity to help digestion, along with NOVATAN to aid in the urea recycling process when high quality grass.  A high mineral content to ensure high submission rates is included in this feed, with elevated copper, selenium, iodine, cobalt, manganese, and zinc,  for optimum fertility conditions. Cal mag will also prevent any occurrence of grass tetany and is included in this feed for a 3kg feeding rate.