Poultry
The core values of Southern Milling in relation to using only top quality raw materials in the manufacture of poultry feeds to the highest standards. Southern Milling offers a most reliable delivery service which is vital for such a sector, with a programme of production which changes diets regularly.
Poultry feeds are produced with total traceability of all raw materials used, as is for all feed produced by Southern Milling. This traceability assures the consumer of Southern Milling's responsibility in our contribution to the food chain and is verified with UFAS approval for feed manufacture.
Broiler Production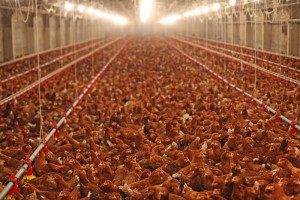 This is now a totally integrated, large scale production, business with only two main processors in the southern half of the country. The broiler producers are equally intensive, with most grower producing in excess of 60,000 broilers per 35/42 day flush.
Southern Milling developed the 4 stage diet of; STARTER, GROWER, FINISHER, and WITHDRAWL, and has contributed to the high production standards of Weight for Age, and Food Conversion Efficiency. This is attributed to the quality of raw materials used, the experienced nutritionists, and the quality control in manufacture.
Over time Southern Milling has established itself as the main Poultry Feed producer in the south due to
The Quality of the feed
The consistent high performance
The overall service provided
Three main types of poultry feed produced
Egg Production
Autumn grass has a lower energy value (lower sugar content) compared to spring/summer grass even through it can look very leafy and green. The response to ration in terms of milk yield is better in the autumn than at any other time of the year.
Low milk lactose levels can be an indication of not enough energy in the cows diet caused by low intake of wet, low-sugar, autumn grass.
With the above mentioned in mind, We at Southern Milling are promoting our Lacto 16 Dairy Nut.
read more